Fall 2022: Arts | Creativity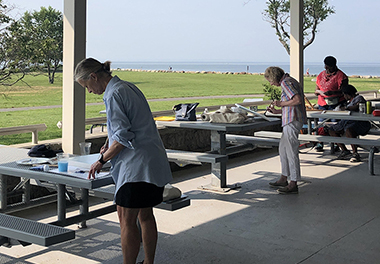 Painting En Plein Air
Enjoy painting outside and draw inspiration from your surroundings at Sherwood Island State Park. This class is for anyone with an interest in painting with acrylics, no experience required!
6 Fridays, Sept 9 - Oct 14 | 10:30 am - 12:00 pm | $125
Easy, Affordable Online Courses with our partner Ed2Go:

Drawing for the Absolute Beginner
Gain a solid foundation in the basics of drawing to become the artist you've always wanted to be. This course will help you become familiar with paper type, drawing styles, techniques, and basic principles of perspective, layout and design.
Introduction to Interior Design
Learn to transform plain living spaces into beautiful and functional rooms. This course will teach you how to design every aspect of a room while taking into account color theory, industry trends, special arrangements, floor plans, design ideas, and interior design basics.
Introduction to InDesign CC
Learn how to use Adobe InDesign Creative Cloud software to create professional-quality letterhead, brochures, forms, eBooks, business materials and more. This course uses hands-on exercises and expert instruction to help you discover how the program features relate to producing actual usable documents.
Introduction to Photoshop CC
Whether you are a photographer, digital illustrator, graphic designer, or someone who wants to alter old family photos, you need to learn Adobe Photoshop. The Introduction to Photoshop Creative Cloud course is filled with easy-to-follow, detailed step-by-step instructions that teach you how to edit and manipulate images and more.
Class is Full: Waiting List Available
Sessions:
6
Dates:
9/9 to 10/14
Location:
Sherwood Island State Park
Instructors:
Register for this class