Fall 2020: Home | Garden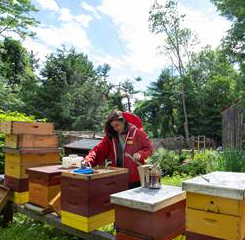 Marina Marchese is back on Dec. 1 with her Beekeeping Workshop. Help the environment by starting this amazing hobby, or design a Meadow for Pollinators with expert landscape designer and artist Jay Petrow.
Online / Live Remote classes will use Google Meet or Zoom. Students should have a dedicated computer with a webcam and sound (you can wear ear buds) and an internet connection for the class. The registration deadline for online courses is 2 business days before the class starts. Participants will receive an email with the information to join the course online the day before (or the Friday before for classes beginning on a Monday).