Decorative Finishes for Home Projects 105
Decorative Finishes for Home Projects
Sessions:
2
Dates:
9/29/2021 to 10/6/2021
Location: Instructor:
Meeting Times
Wednesday 6:00 PM - 9:00 PM
---
Description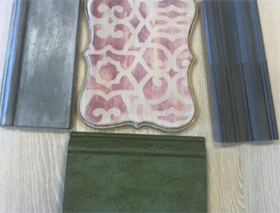 Learn the basics of the Annie Sloan Chalk Paint® method, including the four basic techniques: two-color finish, smooth/modern, rustic finish, and colored wash, plus wax application. Then learn more advanced layering techniques, including dry brushing under a colored wash, frottage, ombre finish, and creating a weathered look with a wet wax technique.

Different types of sample boards are provided and participants will learn 4 techniques each session. Then apply these skills to your own projects, such as furniture, walls, cabinets, outdoor pieces, and more! No chemicals or stripping. A material fee of $30 is paid to the instructor.
Note: Class has been cancelled