Italian Cooking & Culture: Roman Holiday 430
Italian Cooking & Culture: Roman Holiday
Sessions:
1
Dates:
9/29/2021
Location: Instructor:
Meeting Times
Wednesday 6:30 PM - 8:30 PM
---
Description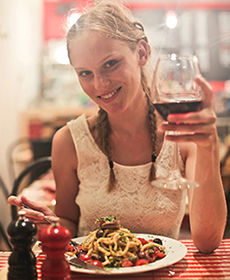 Join Simona Zanelli to learn about and enjoy la dolce vita inspired by films set in Italia!
Let's chat a little about the lovely movie Roman Holiday and how Audrey Hepburn enjoyed her gelato on the Spanish steps. Can we create such a treat from scratch? Gelato is pretty easy to make! Today we'll make gelato alla crema, a basic vanilla ice cream which can be used as a base for many other kinds of gelato, including fruit, chocolate or coffee gelato.
In the movie, Audrey is also tasting some other treats from a Roman café. Is she trying the famous suppli? In this class, we will learn how to make Roman's beloved rice balls with a heart of melted mozzarella cheese - one of the most typical street foods you can find in the Eternal City.
While cooking, we can talk about some of the Roman hot spots for fashion and art, but most of all, we'll talk about food: where to get it and how to choose it from the menu of a typical Roman osteria or tavern. Bring to class your notebook and pen. Also, don't forget to bring two containers to carry home the food that you make.
Note: Class has been cancelled