Happy Clouds! Paint Like Bob Ross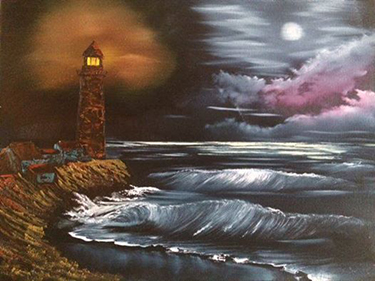 Bob Ross, the famous PBS TV host of "The Joy of Painting", is a legend. While Bob's zen-like voice and relaxing style hypnotized us all, it was his technique that really captivated us. The freedom of this technique allows your creativity to blossom so that everyone, regardless of ability, can create a painting. Learn his wet-on-wet technique with a trained instructor of the Bob Ross method, using special brushes and thick, quick-drying oil paints to apply several layers of paint to the canvas while still wet. All materials are included and walk away with a completed painting!
The March 23 painting will be
Snowfall Magic.

The April 23 painting, "Night Light" is shown at right.