Winter / Spring 2020: Cooking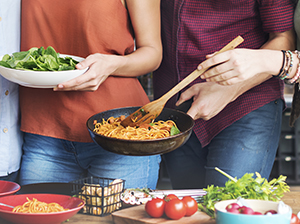 Fairfield Cheese Company returns with a Cheese 101 Course on Thursday, March 5.

Please note both Aditi Goswami and Chrysanthe Lygnos have decided to take a break for the winter/spring 2020 session. We are sorry for decrease in cooking classes and we hope to see them back again soon.
SHS Cooking Classes Location: Cooking classes at Staples High School are located in the culinary department, rooms #182–#184.
Driving Directions: Use main entrance to Staples High School and bear left. Proceed alongside the school until you see the Lou Nistico Sports Complex/South Entrance. Park in the lots on your left and enter through the South Entrance. Kitchens are down the hallway on your left. Note: the kitchens are not food allergy free; nuts, shellfish, etc, are used frequently.