Fall 2019: Cooking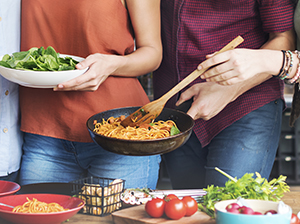 Gear up for the holidays with fantastic ideas and recipes for entertaining and more!
Fairfield Cheese Company brings back a Intro to Cheese & Wine Pairing on November 14. Master international cuisine with classes and workshops to learn and cook Indian, Italian, and Greek dishes! See below for more information.
SHS Cooking Classes Location: Cooking classes at Staples High School are located in the culinary department, rooms #182–#184.
Driving Directions: Use main entrance to Staples High School and bear left. Proceed alongside the school until you see the Lou Nistico Sports Complex/South Entrance. Park in the lots on your left and enter through the South Entrance. Kitchens are down the hallway on your left. Note: the kitchens are not food allergy free; nuts, shellfish, etc, are used frequently.